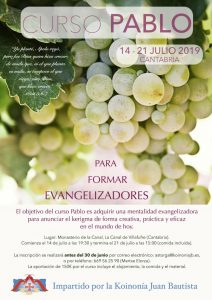 YOU ARE WELCOME!
The Paul course will be held in the splendid coast of northern Spain, in Cantabria from 14 to 21 July 2019. Is talking about Jesus a challenge today? How to speak in a way that arouses interest? How to talk about an experience? Why?
We will find the answers to the questions in a practical and creative way.
The Gospel has an attractive force even today.
Do you want to come?
Registrations by 30th of June.
Contact: astorga@koinoniajb.es