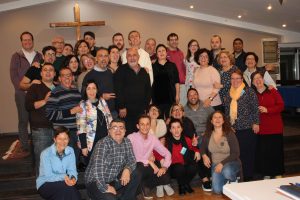 23rd. 24th of November 2018
The first seminar of our School of Evangelization for this new academic year at Recanati (MC), Italy.
I entered in the seminar room and I was overwhelmed by an atmosphere that fascinated me a lot: it was full of faith and invocation, of urgency and freedom at the same time.
Immediately I was involved in it and I started to pray with them. The testimonies of the participants confirmed myself in the real experience of prayer which is necessity and beauty together. 
We prayed not one God among other gods, but the Lord of the history and the whole universe. The One that never fails. The Lord that makes the impossible things possible in His name. 
It was really an intensive weekend,
we spent our time through teachings and sharing together, all around the intercessory prayer which was at the centre of the seminar and we dedicated most of the time at it.
Praying without stopping is inevitable for a christian and much more praying interceding with power. We believe that all we ask to the Lord in the prayer, we've already received it because God acts always for the best for us. He is pleased to hear his men cry out to him day and night. And He grant them.